We can provide a wide range of both wired and telemetry load links and shackles.  From the small 6.5 tonne load link all the way to a 400 tonne link.  The telemetry version can either be controlled by either an ELT 01 handset or the T24 version.  Both handsets offer 500 + metre range from link to handset and both have available data recording capabilities.
We also can offer compression load cells both wired and telemetry.  Ranges from the small 25 tonne compression cell all the way to 1000 tonne cell.  These cells can work with Euroload's Centre of Gravity telemetry software with the wireless version to provide an accurate C of E of the equipment being weighed.
Please visit Euroload's website for further information and products.
Telemetry Load Links
Telemetry Load Links
Ergonomically designed load cell.
Lightweight aluminum construction.
Batteries simply remove. No tools required.
50 hrs continuous use on 3 AA batteries.
Link Remote power down.
433Mhz or 903Mhz radio modules available.
IP67 ingress protection.
Internal ariel with 300 mtr range. No loss of range due to obstructions.
Overload monitoring built in to handset.
Dongle available to capture data direct to PC.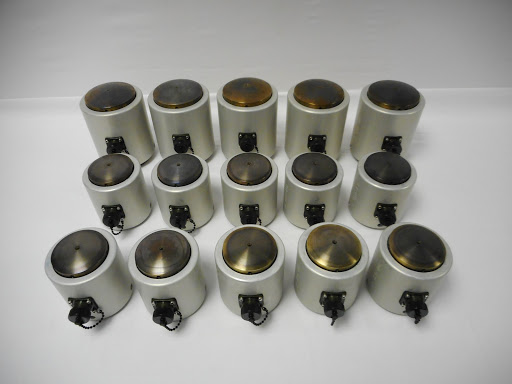 Telemetry Compression Cells
Telemetry Compression Cells
Designed for the harshest of Environments.
Applications include;

Silo Weighing.
Hydraulic ram verification.
Centre of gravity Calculations.
Pile testing.

Fully Stainless Steel.
Swivel top cap available.
Cabled.
IP68 Amphenol Connector for custom cables.
Mv/v output standard.
4-20 ma optional output.
25 to 1000 tonne range.
Telemetry Load Link with wireless T24 Handset
Telemetry Load Link with wireless T24 Handset
Up to 800 meters in transmit range.
Free software to data log.
Web Server built into the software for remote viewing.
Analog output modules.
Print option.
Transmit to mobile Phone.
Low Power Consumption.
2.4Ghz Transmit Frequency.
Also used on Euroload's ECO Shackle's.
6.5 to 55Te Shackle range.
T24 Wireless Telemetry Sensor System
T24 Wireless Telemetry Sensor System
Integrated radio module for performance.
Antenna for superior coverage.
Free software with these options;

Visualisation to build.
With audible Alarm.
Report's.
Data logging.
Built-in Web Server

800 m Transmission range.
Assign Transmitters w/ security keys.
Laptop based, easy to use.