Dual Head Bulk Weigher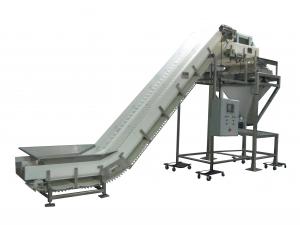 The Dual Head Bulkweigher saves time and money with it's unique dual weigh action dump hopper which operates two seperate weigh chambers. A fast feed and slow feed program operate independently of each other switching to one side of the hopper to the other, doubling the speed and output of the system as opposed to the older, single-lane hopper.
The weigh hoppers are designed and calibrated to meet the strict tolerances of national weigh standards.
Each bulk weighing system design undergos a detailed application analysis to ensure the system performs to the highest levels of expectations, which results in extended life and dependable accuracy.
One of the unique features of our system is our 920i programmable controller which enables the operator to monitor and modify data during operation. It also controls belt speeds, package sizes and report on daily production data such as package count, total weight, time/date and to automatically transfer data to central computers.
**See PDF for more info
Add to Quote Cart