GRINDER PLATES & KNIVES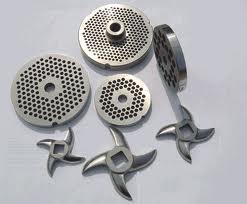 Though extremely competitive in price, these Knives are superior performers. L&W knives are Made in Germany from the finest drop-forged steel and hardened for added durability. Each Knife is made of one piece construction for better sanitation and to make them easy to clean. L&W knives are ideal for restaurants, delis, hotels, butcher shops and supermarkets.
Alfa Chopper Plates are made in Germany from a special chrome-vanadium steel alloy (58-60 HRC) for extremely long life. Using computerized drilling for plate-to-plate conformity, the maximum number of holes are drilled into each Plate to provide for greater production and cooler, more efficient cutting.
Triumph grinder plates are the finest in the world. The base material is a high alloy steel, consisting of high chromium and high carbon content. The chromium content gives you stainless steel qualities, while the high carbon content gives you exceptional wear resistance qualities.