Compact Series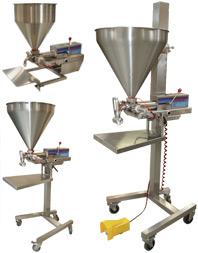 Compact – Don't let the name fool you. The Compact makes a great all around depositing system with plenty of speed and power for various bakery and food depositing needs. The Compact can be fitted with many of our standard Unifiller attachments, and is available in three seperate frame options: Table Top – Mobile – Power Lift.
Machine Features:
Over 100 standard machine attachments / options to choose from.

Designed with the least number of parts to clean.

Can be quickly and easily disassembled for cleaning and product change-over.

Height adjustable depending on model.


Performance Specifications
Model: Compact Mobile, Power lift and Table Top
Power Air: Air 3 to 5 CFM @ 80 PSI
Electric: N/A
Run: 140 deposits/min (8,400 deposits/hr) depending on product size
Volume: 0.3 oz - 18 oz (10ml - 532ml)
Hopper Capacity: Powerlift and Mobile: 14 US gallons (52 liters). Table Top: 6 US gallons (22.75 liters)
** Contact us for more details