Deco-Mate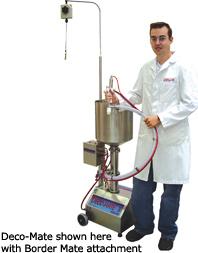 No bags to fill and no bags to squeeze!
The Deco-Mate allows an entry level operator to start decorating cakes within minutes — and with very little training. The Border-Mate attachment is an automated shell border decoration system that allows you to produce beautiful shell borders and decorations instantly.
Machine Features:
Replaces the pastry bag.


Performance Specifications
Model: Deco-Mate (Border-Mate)
Air: 4 CFM @ 20-80 PSI - 113 liters/minute @1.3-5.5 Bar
Electric: N/A
Run: No bag refill.
Volume: 17 fl. oz. (502 ml) / stroke.
Hopper Capacity: 10 gallons (38 liters)
**Contact us for more details