Enrober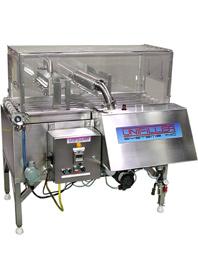 Designed to gently enrobe or string ice products with chocolate, fondants, caramel and other warm liquid type coatings. The Unifiller Enrober / String Icer will coat or string ice cakes, cookies and other pastries as they move down the stainless steel wire belt conveyor.
Machine Features:
Finish pastries, round cakes, cookies with warmed melted chocolate, fondants and icings.

Waterfall flow of product.

Oscillating attachment to produce strings of chocolate or fondant icing to create a decorated look.

Heated holding tank.

Air curtain blower and radiant heater.


Performance Specifications
Model: Enrober
Power Air / Electric: 8 CFM @ 80 PSI. 227 liters / min. @ 5.5 bar
Air: 4 CFM @ 20-80 PSI - 113 liters / min. @1.3-5.5 bar
Electric: 220 V AC Single Phase 30 amps
Run: Up to 1000 cakes per hour
Hopper Capacity: 40 US gallons (151 liters)
** Contact us for more details